🔰 Tourist Places >> Destination >> City Of Joy >> Best Tourist Places to Visit In Kolkata 2022 >> Map
The "city of joy" Kolkata is the capital city of Indian's West Bengal state. This is the second largest city in India after Mumbai. Kolkata is the one of the most popular tourist spot to visit in India. The city is center on the east bank of the Hooghly River, Hooghly River is the main chain of the Ganges (Ganga) River. City of commerce, transport and manufacture, Kolkata is an influential city center in eastern India. Have you planning to visit in Kolkata so, for your guidance we provide the list of all best tourist places to visit in Kolkata 2022, you can't miss.
Here are the Top 13 Best Tourist Places to Visit in Kolkata:
Here we provide top 13 Best Tourist Places to Visit in Kolkata 2022, you can't miss it.
1. Victoria Memorial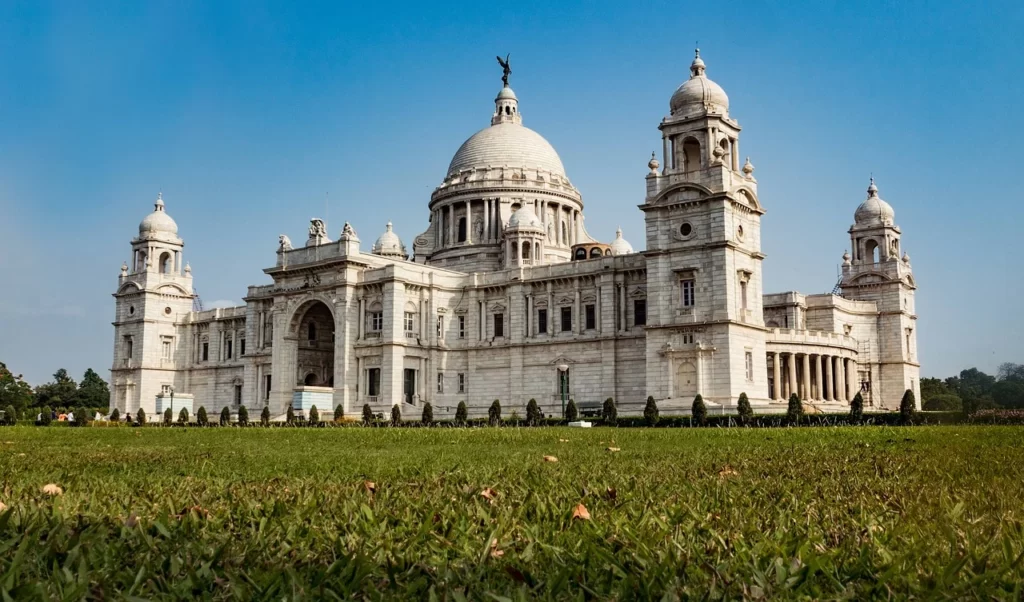 Another remembrance of the British Raj in India, the Victoria Memorial is located in the heart of Kolkata, in West Bengal, India. This white marbled opulent structure was built in memory of Queen Victoria to celebrate her 25 years of rule over India and is almost a replica of the Victoria Memorial in London. Victoria Memorial is an iconic structure that is conterminous with the city of joy! The property is now under the control of the Ministry of Culture so it's a very big travel places for visitors. Victoria Memorial holds a light and sound show called as SON-ET-LUMIERE from October to June.
2. Science City
The Science City of Kolkata is the biggest science center in the India subcontinent. Under the Nation Council of Science Museums (NCSM). The complex comprises Space odyssey, Evolution theme park, Maritime center and a Science park. This is the major attraction for citizen people as well as this is the main attraction for tourister.
3. Howrah Bridge
Howrah is the second largest city of West Bengal, India. This is one of the most preferred tourist destination. There are many places of attraction that can explore in Howrah. Among these Bridge is most significant sightseeing spot.
4. Rabindra Sarobar Lake Garden
Rabindra Sarobar is an artificial lake and is the only lake off national importance in Kolkata. The ecology of the urban water body, a favorite haunt of morning walkers, has taken a severe beating from human actions. Rabindra Sarobar Lake or the Dhakuria Lake, as it was known earlier, are the lungs of Kolkata. This is one place in South Kolkata where you can escape the commotion and be with yourself.
5. Kalighat Kali Temple
The famed temple Kalighat Kali Temple dedicated to the goddess Kali is situated in Kalighat. This is the most oldest Kali Temple of Kolkata. A famous religious attraction of Kolkata, Kalighat Kali Temple is deliberated as one of the 52 Shakti Peethas (places where the various parts of Sati's body are believed to have fallen, in the course of Shiva's Rudra Tandava) of India.
6. Indian Museum
The Indian Museum is the ninth oldest museum of the world and largest in India, the Indian Museum is located the city of joy –Kolkata. The basis stone of the Indian Museum was placed down in the year 1814 and has been a center of multidisciplinary activities ever since. It's another name is "JADUGHAR
7. Eco Park
Eco – Tourism Park in Kolkata is an expensive urban park designed to promote eco – tourism in the city. It is the biggest urban park in India. Spend a relaxing afternoon in Eco – Tourism Park, 480 acres (190 hectares) of themed gardens, ecological spaces, and play areas surrounding a man – made lake.
8. Birla Planetarium
Birla Planetarium of Kolkata, is one of the largest planetarium in Asia and the second largest in the World. This is a magnificent edifice set up by Pandit Jawaharlal Nehru on 2nd July 1963. Birla Planetarium provides a affirmation where astronomical presentations take place.
9. Belur Math
Exactly 60 minutes form Kolkata, Belur Math that is located on the right bank of river Hooghly. Belur Math is notable for exhibiting Hindu, it's motifs as a symbol of unity of all religions. People from all over the world, Similar of the region that they believe in, Visit the temple to enjoy the tranquility and serenity that it imbues. Tourists often spend about 3-4 hours here, but the experiences and sentiments felt here stay with them forever.
10. Alipore Zoo
The, Zoological Garden, Alipore is India's oldest officially stated zoological park. The Alipore Zoological Garden in Kolkata is usually known as Calcutta Zoo or Alipore Zoo. It is one of the busiest tourist attraction in Kolkata, West Bengal. Alipore Zoo is spread across an area of 46.5 acres. It was founded and opened for visitors in 1876.
11. Dakshineswar Kali Temple
Dakshineswar Kali Temple is one of the holiest place of eastern India. The famous temple Dakshineswar Kali Temple dedicated to the goddess Kali is located at Dakshineswar. Situated on the eastern bank of river Hooghly. One of the most famous temple in Kolkata. The presiding deity of the temple is Bhavatarini, an element of Kali, means "She who liberates her devotees from the sea of lifestyle".
12. Jorasanko Thakur Bari
Jorasanko Thakur Bari, Kolkata is located in Jorasanko, is the ancestral home of the first Indian and non-European Nobel laureate Kaviguru Rabindranath Thakur (Tagore). The Jorasanko Thakur Bari was built in 1785 in Jorasanko in the north of Kolkata in West Bengal in India. The place on which this paternal home stands today was given in by the famous Sett family of Burrabazar to Prince Dwarkanath Tagore, Rabindranath Tagore's grandfather.
13. Aquatica Water Park
Aquatica is a large water park that hosts a variety of events and activities for private, business, and entertainment reasons. Concerts, exhibits, promotional events, get-togethers, and festivities are frequently held there. Important sporting events and holiday celebrations, including Holi Parties, have also taken place here.
➤ Frequently asked question about Kolkata tourism:
Q-1. What is the History of Kolkata?
Ans:- Formerly the capital of the British Empire before the government was shifted to Delhi, Kolkata has a distinct tinge of its royal past lingering in every nook and cranny of the city. If you want to soak up some of the city's past, take a walk along the streets of North Kolkata, which is home to most of the city's oldest residences, adorned with vines and an uninterrupted sense of aristocratic pride.
Q-2. What are the best time to visit in Kolkata?
Ans:- October to February is the best time to explore Kolkata City. As the weather is very cool and pleasant during this time.
Q-3. What is the best food that you can eat here?
Ans:- You haven't really been to Kolkata if you haven't tasted the best street food in Kolkata. Kolkata's street food is famous all across the country, and the city is lined with eateries and food stalls at every corner, where you can savour local Bengali food, or try out local Bengali snacks such as Jhalmuri, Ghugni Chaat, Papri Chaat, Pakora, puchkas, Bhelpuri, Luchi and Alu Dom, samosa, Kathi Rolls, Alu Kabli, etc. Also, the Bengali sweets, popular all across is something you just cannot miss. Find them here in there most authentic and delicious form. Do try Rashogulla, Rajbhog, Rasmalai, varieties of Shondesh, Cream Chup, Mishti Doi, Payesh, Pantua, Mihidana, Kacha Golla, Naru, Sitabhog and other Bengali sweets.
Hope you liked this article on Best Tourist Places to Visit in Kolkata 2022. Do share your views with me within the comments section below and If this article was helpful so share this post with your friends on Facebook and Twitter. It would mean a lot.