West-Bengal-tourism-Shantiniketan-5
West-Bengal-tourism-Shantiniketan-6
chattimtala-shantiniketan
West-Bengal-tourism-Shantiniketan-4
West-Bengal-tourism-Shantiniketan-3
West-Bengal-tourism-Shantiniketan-2
West-Bengal-tourism-Shantiniketan
Kala-Bhavan-shantiniketan
Poush_Mela_Bazaar_shantiniketan
Tagore's-ashram-shantiniketan
visva-bharati-university-shantiniketan




West Bengal tourism shantiniketan
"Rabindranath Tagore's Eternal Abode" – Santiniketan is a tiny town near Bolpur in West Bengal's Birbhum district, some 212 kilometers north of Kolkata (formerly Calcutta). Nobel Prize winner Rabindranath Tagore made it renowned, and his vision became Visva-Bharati University, which is today a university town. Thousands of people flock to the site each year. West Bengal tourism Shantiniketan is the best places for nature lover people.
🔰 Address: Shantiniketan, West Bengal, India Map
Places to Visit in Shantiniketan:
There are many popular places to pay a visit in Shantiniketan. We have Shortlisted some places you should absolutely couldn't miss while visiting Shantiniketan.
1.Visva-Bharati: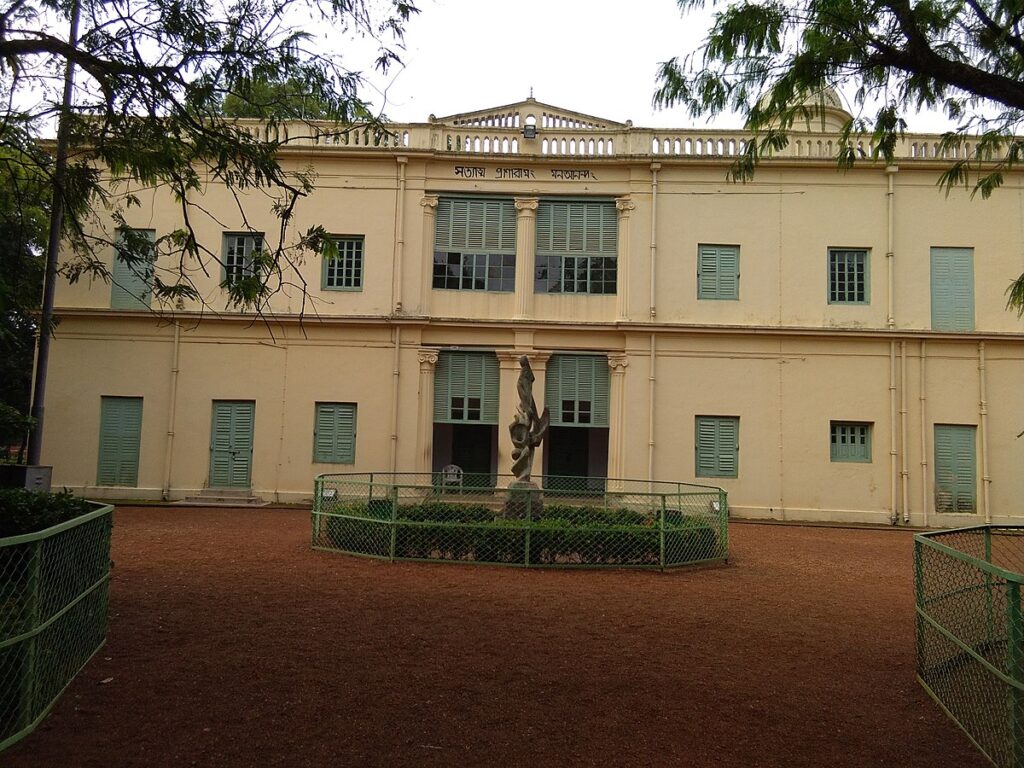 In 1901, Rabindranath established the Bramhachari Ashram in Santiniketan, based after the old Gurukul system, which later became known as Patha Bhavan, the institution of his principles, and whose core concept was that studying in a natural setting would be more joyful and beneficial. Its distinguishing qualities include open-air courses, personal contact between professors and students, and self-government instruction.
Tagore envisaged a learning institution that would combine the finest of both east and the west. He was awarded the Nobel Prize in 1913, which increased not just India's pride but also the status of Santiniketan. The school grew into a university. It was given the name Visva-Bharati.
Also Read:Jorasanko Thakur Bari Kolkata | Timings, Entry fee, History Full Details-
2.Tagore's ashram:
Timings: Winters: 2:00 PM – 4:30 PM,
Summers: 2:30 PM – 5:30 PM,
During Summer and Puja Vacations: 7:30 AM – 11:00 AM (May-June and September-October). [Remains closed on Wednesdays.]
Time required: 2-3 hours
Entry Fee:
Museum: INR 40,
Students: INR 10 (If valid student ID is shown)
Tagore's Ashram, also referred as Kaviguru Rabindranath Tagore's home, is one of Santiniketan's must-see attractions. Maharishi Devendra Nath Tagore, his father, created it in 1863. This area is a big mark left by our beloved Gurudev, and it is a heritage site properly conserved by the administration. His life is documented on the site through his literary works, prizes and accolades, daily goods he uses, and his passion for environment. One can't help but notice his presence across the place.
3.Amar Kutir:
Amar Kutir, previously a shelter for freedom revolution participants, has been transformed into an arts and crafts cooperative organization. It is situated on the banks of the Kopai River in Birbhum district, approximately 15 kilometers from Shantiniketan.
Amar Kutir, situated near the University, displays a variety of locally manufactured goods, including as leather painted purses and painted cloth.
Also Read:7 Best Tourist Places To Visit In Murshidabad 2022 | Full Details-
4.Chattimtala:
Maharshi Debendranath Tagore, Tagore's father, meditated at this location. He was a scholar who promoted meditation and observation as keys to the success and global growth.
Every student is inextricably linked to this location, since graduates are presented with a twig of the Saptaparni tree, which can be seen at Chhatimtala. Its prayer hall, one of Santiniketan's most beautiful locations, is nearby. The location is regarded as extremely precious and respected.
5.Poush Mela:
Maharshi Devendra Nath Tagore, together with 12 others, accepted the Brahmo during the Poush Mela. The Mela commemorates this day, which falls on the 7th day of the Poush month. The fair is a fantastic illustration of diverse cultures and customs colliding. If you visit Shantiniketan in December, you will be treated to performances by Shantiniketan students.
6.Kala Bhavan:
Kala Bhavan, as the name suggests, promotes art among the scholars. This is a beautiful decorated and decked up erecting in the demesne of the lot. While as the name suggests Kala means art, it was the motto of Rabindranath Tagore to developing the artistic. It's a center for Visual Art practice and exploration in the country. The primary focus is to instill and inculcate an artistic bent of mind and it is a famous building that inculcates the study of visual art and research and through knowledge of arts. whenever you visit Shantiniketan, be sure to have a walk around the abode Therefore!
Other noticeable places:
Sonajhurir Haat, Rabindra Bhavan Museum, Prayer Hall (Upasana Ghar) etc..
How to Reach:
By Air: The closest airport is Kolkata's Netaji Subhash Chandra Bose International Airport.
By Train: Bolpur is indeed the closest railhead. Trains to Bolpur are frequently accessible both from Howrah and Sealdah (Kolkata).
By Road: A good road links Shantiniketan with Kolkata. Several major cities are well linked to the area via road.
Hope you liked this article on West Bengal tourism Shantiniketan. Do share your views with me within the comments section below. If this article was helpful, do share this post with your friends on Facebook and Twitter. It would mean a lot.