Europe is home to some of the most unique, beautiful, and diverse gardens in the world, each offering a unique and enchanting experience for visitors. From the grandeur of Italian Renaissance gardens to the tranquility of English country estates, Europe boasts a rich tapestry of horticultural wonders. These top 10 gardens showcase the beauty and creativity of European garden design, inviting visitors to immerse themselves in stunning landscapes, meticulously crafted floral displays and historical treasures. Whether you seek the splendor of formal gardens, the serenity of botanical havens, or the charm of hidden gems, this collection of European gardens promises to inspire and captivate all who venture within their gatesIn this article, we will explore the 10 best gardens to visit in Europe for a perfect vacation trip, allowing you to immerse yourself in the serenity and splendor of these enchanting spaces..
Kew Garden Richmond, United Kingdom
This magnificent botanical garden is renowned for its diverse plant collection and stunning landscapes. It is a UNESCO World Heritage Site, attracting visitors from all over the world. The gardens offer a captivating experience with their vast array of exotic plants, including the iconic Victorian glasshouses and the famous Temperate House. To explore this natural wonder, visitors can get Kew Garden tickets, which provide access to the various attractions and exhibitions within the gardens. With its rich history, picturesque scenery, and educational exhibits, Kew Gardens offers an unforgettable journey into the realm of botanical beauty.
The Boboli Gardens, Florence, Italy
Sprawling over 11 acres, these gardens are a true oasis in the heart of the city. Visitors can explore carefully manicured lawns, elegant fountains, charming grottoes, and picturesque pathways adorned with statues and ancient sculptures. The Boboli Gardens also offer breathtaking views of Florence's skyline, making it a favorite spot for locals and tourists alike. If you're planning a visit, it's recommended to check for Boboli Gardens tickets in advance to ensure a seamless experience and avoid any potential lines or wait times.
Keukenhof Gardens, Lisse, Netherlands
It is a breathtaking floral paradise that attracts visitors from around the world. Spread across 79 acres, the gardens boast a stunning display of over seven million flowers, including vibrant tulips, daffodils, hyacinths, and more. It's a true spectacle of colors and fragrances, creating a magical experience for nature lovers and enthusiasts alike. Keukenhof Gardens also offers various themed gardens, pavilions, and art exhibitions, making it a delightful destination for all ages. To visit this floral wonderland, you can purchase Keukenhof Gardens tickets online, which allow you to enjoy the beauty of nature's finest creations.
Real Jardin Botanico de Madrid, Spain
It is a botanical paradise that offers a serene escape from the bustling city. Spanning 20 hectares, it houses an extensive collection of plants from around the world. Visitors can stroll through various themed gardens, including the historical Garden of Medicinal Plants and the elegant Royal Garden. If you're planning to visit, it's advisable to check for Real Jardin Botanico de Madrid tickets in advance, especially during peak seasons, to ensure a smooth entry and enjoy the diverse flora and fauna in this botanical gem.
Also Read: 10 Completely Unexplored Destinations in India
Villa d'Este, Tivoli, Italy
It is renowned for its spectacular gardens and stunning Renaissance architecture. The gardens feature a series of terraces adorned with magnificent fountains, cascades, and meticulously manicured hedges. Exploring the Villa d'Este gardens is like stepping into a fairytale. To visit this enchanting site, it is advisable to check for Villa d'Este tickets in advance, as they may be required for entry and to secure your preferred time slot, ensuring an unforgettable experience amidst the beauty and grandeur of these historical gardens.
Giverny Gardens, France
The Giverny Gardens in France are a testament to the artistic vision of renowned painter Claude Monet. These gardens, which served as his inspiration for many of his famous works, boast an array of vibrant flowers, tranquil ponds, and Japanese bridges. To immerse yourself in the beauty that captivated Monet. It is recommended to check for Giverny Gardens tickets before your visit, especially during peak seasons. By securing your tickets in advance, you can guarantee access to this picturesque haven and indulge in the same natural wonders that inspired the masterpieces of one of the greatest Impressionist painters.
Villa Ephrussi de Rothschild, Saint-Jean-Cap-Ferrat, France
It is a stunning mansion surrounded by breathtaking gardens. These gardens, inspired by various styles and themes, offer a visual feast for visitors. From the French Garden to the Spanish Garden and the Japanese Garden, each area presents its own unique charm. To explore this architectural gem and its lush grounds, visitors can obtain Villa Ephrussi de Rothschild tickets, ensuring access to the estate's interiors and the opportunity to wander through the meticulously designed gardens.
Also Read: Family-Friendly Activities in Las Vegas: A Complete Guide Off the Strip (2023)
Giardini Botanici di Hanbury: La Mortola, Italy
The Giardini Botanici di Hanbury, nestled in La Mortola, Italy, is a botanical paradise that spans across several hectares. These gardens, established in the 19th century, showcase an incredible array of exotic plants and trees from around the world. Visitors can stroll through terraces, ponds, and pathways, immersing themselves in the vibrant flora. To gain admission to the Giardini Botanici di Hanbury, visitors can acquire tickets, granting them access to explore the gardens at their leisure and appreciate the botanical wonders on display.
Giardini di Ninfa, Cisterna di Latina, Italy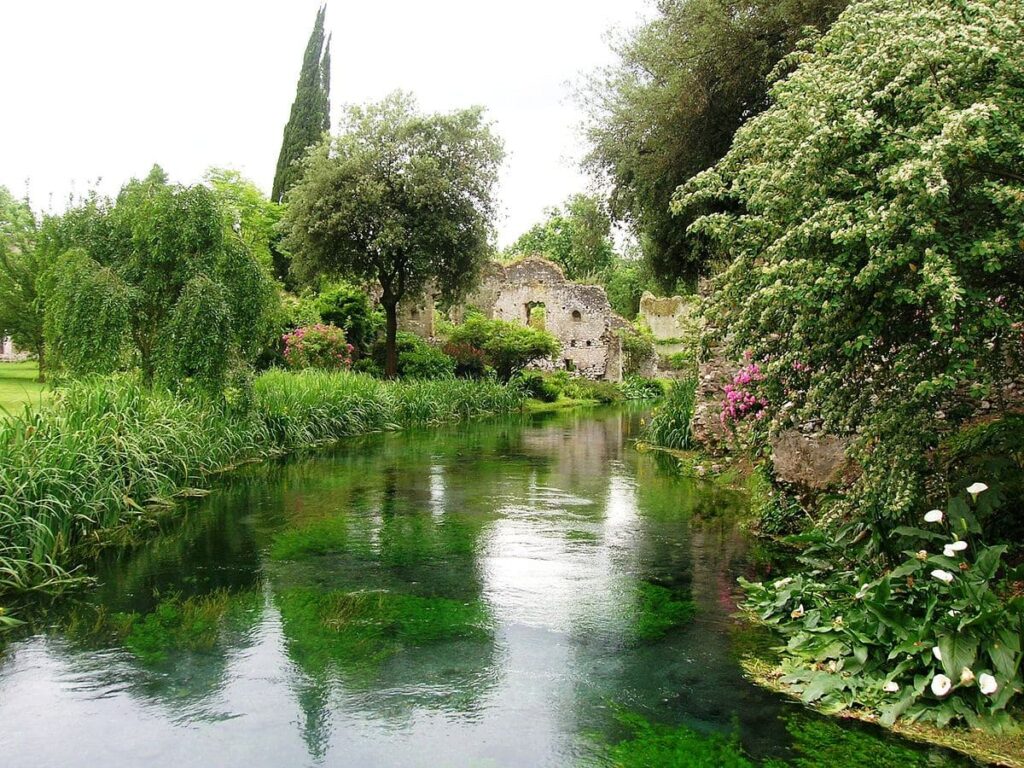 It is an enchanting oasis that blends the remnants of a medieval town with lush greenery. These romantic gardens, situated on the ruins of the ancient town of Ninfa, offer a surreal and picturesque setting. Visitors can wander through the verdant landscape, crossing bridges, admiring the colorful blooms, and marveling at the surrounding medieval architecture. While entry to the Giardini di Ninfa is limited due to preservation efforts, securing tickets in advance allows visitors to experience the magic of this unique and historic site.
Powerscourt Gardens, Enniskerry, Ireland
It  is a world-renowned horticultural masterpiece. These magnificent gardens, set against the backdrop of the Wicklow Mountains, offer a delightful blend of formal gardens, terraces, and captivating vistas. Visitors can explore the Italian Garden, Japanese Garden, and stunning Walled Gardens, all meticulously designed and impeccably maintained. To enjoy the full Powerscourt Gardens experience, including access to the gardens, the historic house, and the various attractions on the estate, it is advisable to purchase tickets in advance, ensuring a seamless visit to this natural gem.
Hope you liked this article on 10 Best Gardens to Visit in Europe For A Perfect Vacation Trip, Kalimpong. Do share your views with me within the comments section below. If this article was helpful, do share this post with your friends on Facebook and Twitter. It would mean a lot.